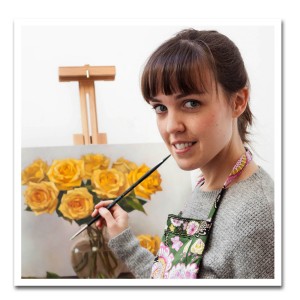 Jenny Kelley (b. 1983) received her Bachelor of Fine Arts in Painting from the Rhode Island School of Design, which she attended on a full merit scholarship.  Kelley specializes in floral still life and she is passionate about painting from life observation.
Kelley's still life paintings explore the contrast between the enduring qualities of the painted image and the transient beauty of flowers.  In painting flowers from life, Kelley has become particularly aware of the intensity of a single moment, and she aims to evoke some of the wonder of the feeling of a fragile instant in her work.  Her paintings also
incorporate antiques, one-of-a-kind pieces, and a variety of textiles in order to create scenes that are at once casual and studied.
An award-winning artist, Kelley is a member of the Copley Society of Art and a Signature Member of American Women Artists.  Her work has been shown in numerous prestigious shows and competitions across the country.
Click here for her artist profile in the 2017 Cape Cod Art Magazine
 jenny@jennykelley.com    508-776-5108
GALLERY REPRESENTATION:
 Tree's Place in Orleans, Massachusetts
Leslie Levy Fine Art in Scottsdale, Arizona
Tilting at Windmills Gallery in Manchester, Vermont
SELECTED RECENT EXHIBITIONS:
American Women Artists 2016 Annual Master and Signature Members Show & National Juried Exhibition September 23 – November 13, Bennington Center for the Arts, Bennington, VT

Focus on Figures juried by Juan Jr Ramirez,  April 22-May 1  North River Arts Society, Marshfield, MA
National Art Exhibition January 29- March 12 Visual Arts Center, Punta Gorda FL.  Excellence Award, juried by Jeffrey T. Larson
For the Love of the Arts February 1-26 Trees Place Gallery, Orleans, MA
Small Works: Great Joy! November 21-December 31 Tree's Place Gallery, Orleans, MA
American Women Artists 2015 Annual Master and Signature Member Show & National Juried Exhibition November 12-30, Bonner David Galleries, Scottsdale, AZ
Guild of Boston Artists Annual Regional Juried Competition, reception October 3rd, 3-5 pm, 162 Newbury Street, Boston, MA
As Expected July 1-August 19  Copley Society of Art, Boston, MA
The Magic of Still Life  May 23-June 5  Tree's Place Gallery, Orleans, MA
Fresh Paint 2015  April 28-May 9  Copley Society, Boston, MA
Focus on Figures juried by Johanna Harmon April 24-May 3  North River Arts Society, Marshfield, MA
A Hundred-Thousand Dollar Show  December 2014, Tilting at Windmills Gallery, Manchester Center, VT
Holiday Small Works Show  November/December 2014, Copley Society of Art, Boston, MA
Women Painting Women Juried Show  September 2014, Principle Gallery, Charleston, SC
Laumeister Fine Art Competition Show  August 2014, The Bennington Center for the Arts, Bennington, VT
American Women Artists National Juried Competition  August 2014, Addison Art Gallery, Orleans, MA  (Best 2-dimensional work)
Focus on Figures  April 2014, North River Arts Society, Marshfield, Massachusetts (juried by Dan Thompson- second and third place)
Winter Visions  February 2014, Copley Society of Art, Boston, Massachusetts
New Members' Show  January 2014, Copley Society of Art, Boston, Massachusetts
Annual Regional Painting Competition  October 2013, Guild of Boston Artists, Boston, Massachusetts
Members Show 2013 North River Arts Society, Marshfield, Massachusetts
National Association of American Pen Women Exhibition  2013, Green Briar Nature Center, Sandwich, Massachusetts